ProMarketing is a company belonging to the Gjonaj Holdings group together with: Infotelecom, Digicom Fiber, Enertrade, Probroker and Mactal.
ProMarketing is a company belonging to the Gjonaj Holldings group together with: Infotelecom, Digicom Fiber, Enertrade, Probroker and Mactal.

The company operates in the "Business Process Outsourcing" sector offering the customer a modern range of Inbound and Outbound Digital Center Outsource, Backoffice and HelpDesk services.

ProMarketing satisfies all marketing, communication and assistance needs, from customer satisfaction to telemarketing, from market surveys to solving users' software or hardware problems, from CUP management to assistance via chat, document or digital archiving, to database management .

All services can be provided in all languages and in particular periods, at night and on public holidays.

It is a highly flexible company attentive to the needs of the market, capable of adapting quickly to every new situation, capable of dealing with any work request and analyzing every single process, without ever neglecting attention to detail, maintaining the focus on guidelines and customer requests.
ProMarketing was conceived and organized with the aim of becoming one of the most important companies in the sector in Albania. It was established in September 2011 and opened its first office in Tirana. Over the years, the company has continuously demonstrated the ability to grow, both in terms of resources and assets, and has established itself as an international company.

ProMarketing Italia Srl was created in Italy in 2015.

Today the Company is made up of ProMarketing Italia with its Legal Headquarters in Rome and Operations Center in Rende (CS) and ProMarketing Albania with its Head Quarter in Tirana and 5 Operations Centers on the Albanian territory.

Among the companies in the Gjonaj group, ProMarketing has the largest number of employees, with an average of 600 employees spread across 7 locations.

The company is currently one of the most significant and exclusive partners of Vodafone Italia SPA and Wind SPA. Additionally, it also works as a subcontractor of services for prestigious companies such as Albtelecom Albania and Telekom Albania.
Fatjona Ishmaku
Business Managment Director
Carmine Sabato
General Director
Erlind Behari
Business Unit Director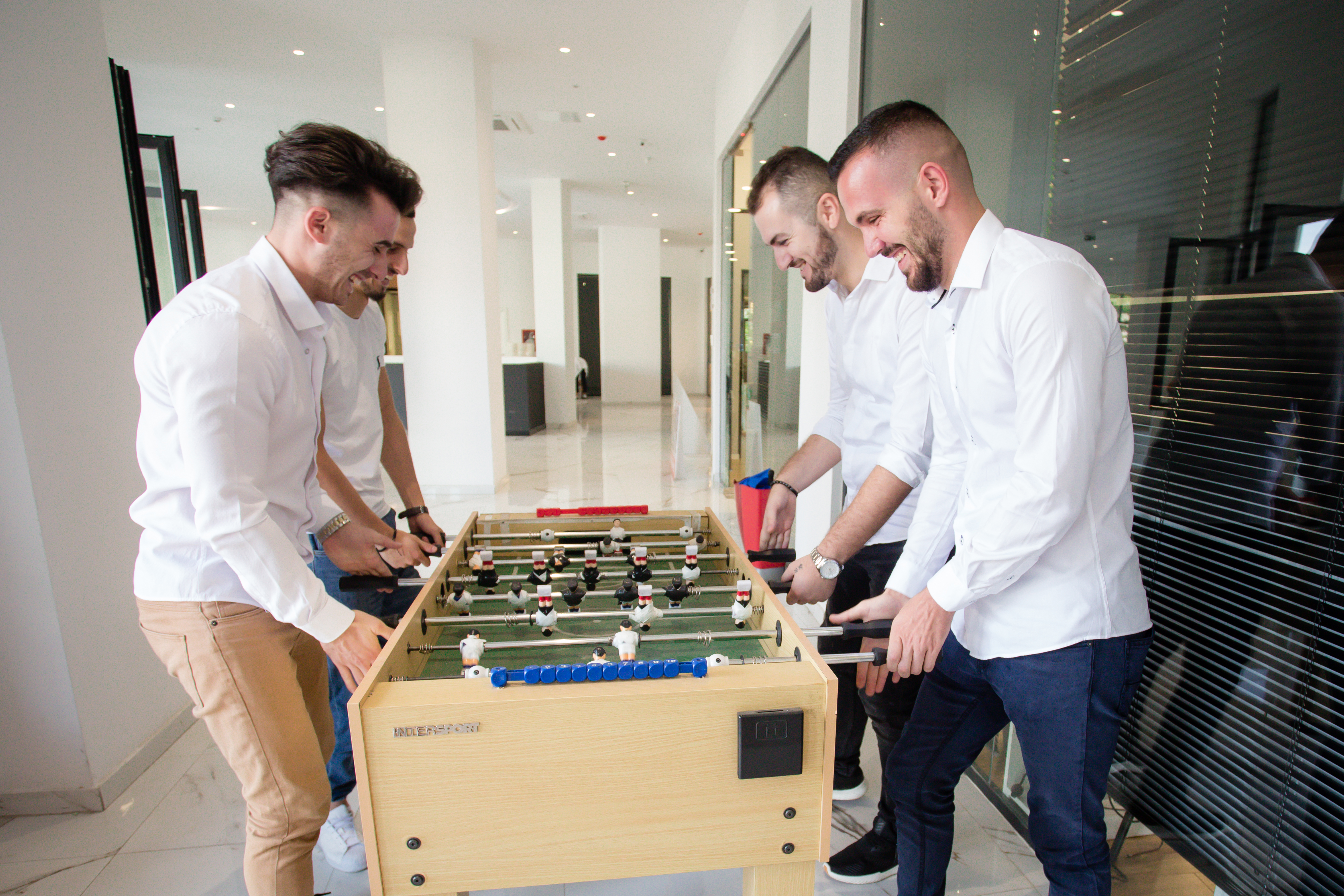 At ProMarketing, we believe that a positive company culture is essential to our success.
That's why we encourage our team members to take a break from work and participate in team-building activities,
like the friendly game shown in this photo.
We promotes a healthy work-life balance that we value deeply.
We are proud to showcase this snapshot of our company culture on our website,
and we hope it inspires others to prioritize team-building and work-life balance in their own workplaces.
Introducing our amazing team in action! As you can see, they're bouncing ideas off each other and collaborating to create something truly innovative. Our staff enthusiasm for their work is contagious and evident in their bright smiles and animated expressions.At our company, we take great pride in having such a talented and dedicated team on board. Their passion for their work and their ability to work together seamlessly is what makes them stand out. 
We firmly believe that when people enjoy what they do, it shows in the quality of their work, and this is evident in everything our team does. With our team of experts, we're confident that we can achieve anything we set our minds to. We're passionate about our work and dedicated to delivering outstanding results to our clients. If you're looking for a team that's committed to excellence, look no further than our team at ProMarketing. Have a look to learn more about our services and how we can help your business succeed.